In Memory
Ronald Stevens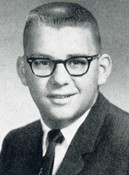 Obituary
Ronald Guy Stevens
64, of Indianapolis passed away July 26, 2011. A lifelong resident, he was born on August 17, 1946 to Gaylord and Edith (Overmeyer) Stevens.
Ronald served his country in the Army and was a member of American Legion Post #145. He also volunteered at the VA Hospital for the last five years. Ronald especially loved being with his grandchildren and watching them play sports.
He is survived by his children, Anthony Jay Stevens (Carrie), Gaylord Brian Stevens (Abby), Matthew Aaron Stevens (Denise) and Emily Kay Stevens; grandchildren, Matthew, Marcus, Alex, Davaughn, Cade and Lauren; mother, Edith Stevens; and sister, Rita Stevens-Powell.
A memorial service will be held Sunday, July 31 at 3 p.m. in Aaron Ruben Nelson Mortuary , 11411 N. Michigan Rd. Online condolences may be made at: http://www.arnmortuary.com
Published in the The Indianapolis Star on July 28, 2011