FlashBack 55 - How It Works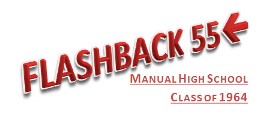 On June 4th of 2019 it will be 55 years since we last strolled the hallways of Emmerich Manual High School.
WOW!
We will soon be sharing details about the celebration events that are in the works for that milestone. But why wait to have some fun!
September of 2018 marks the 55th anniversary of the beginning of our senior year.
So from September 2018 until June 2019 FlashBack 55 topic discussions on our class website will help us remember and celebrate all the stuff that made our years at Manual special.
Here is how FlashBack 55 works...

1) You login
Log into our website. This is required. (Since anyone accessing our
FlashBack 55 topics is allowed to add comments and upload photos
we don't want just any old person putting stuff on our website.

)
2) You browse to our topics
Click Our Discussions on the left.
Click FlashBack 55 under Forum.
Click the Topic of interest to you. (Dating, Hangouts, Fashion, etc.)
Enjoy reading and seeing what others have posted.
3) Then add your own comments and photos to a topic discussion.
It's as simple as A-B-C.

A) While viewing a topic comment click the

button.
The Post Reply window will appear.
(Click

button only if you want to include the posted
comment you are reponding to in your new comment.
If not just click

)

B) Type your comments in the reply window.
To upload a photo as part of your comment click the photo icon


above the comment area. Optional)

C) When you are finished click

at the bottom of the
reply window. That's it!

A> Click

B> Type your comment C> Click



** NOTE ** You can also click

to start a new topic
discussion if you want.

4) Submitting printed photos
If you have a printed photo(s) you would like to share
that needs to be scanned send it to: Bill Byrd, 1662 Cape
Hatteras Trail, Brownsburg, IN 46112. Bill will scan and upload
your photo(s) and return it to you.

5) Share your town/city and a picture of you with your posts
Use the My Settings link at the top of any Topic page to include
or exclude your town/city and/or a picture of you with your posts.

6) Scroll to the bottom of any topic to subscribe
You can decide to receive an email/or not about new posts which
other classmates add.
That's FLASHBACK 55!!

** NOTE ** A number of FlashBack 55 topics and comments have already been posted so check them out!
BE SURE TO CHECK OUT CHUCK WILLIAMS FlashBack 55 DATING MISHAP COMMENT. IT IS HILARIOUS.
Lastly, be sure to vote for your favorite Billboard #1 Single in the FlashBack 55 Music topic.

Let's have some fun remembering the good old days!!

Click here to see our list of topics.