In Memory
Roger McHenry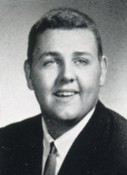 Deceased Classmate: Roger McHenry
Date Of Birth: aug-14-1945
Date Deceased: dec-07-1985
Age at Death: 40
Cause of Death: massive heart attack
Classmate City: Indianapolis
Classmate State: IN
Classmate Country: USA
Was a Veteran: No
Survived By: His daughters Teresa McHenry Rains and Tammy McHenry Black. Sister Shirley McHenry Henthorne and brother Larry McHenry.

Roger loved spending time with his family and enjoyed supporting Manual in anything that his two daughters where involved in. Roger was a bass fisherman and loved the outdoors. He coached little league at Em Hart. he never let the fact he had polio get him down.
(Information provided by Teresa McHenry Rains June 30th, 2014)