In Memory
Evelyn Wyatt (Reed)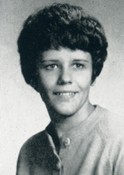 We received the following notice April 24th, 2019

I am sadden to report that my wife of 53 years Evelyn (Wyatt) Reed passed away Feb. 24, this year. She struggled bravely these last four years with four different forms of Cancer. Please Inform her fellow classmates for me. Thank You
Gary Reed

The following is an excerpt from a note received from Evelyn's husband Gary.

No obituary was published. She chose to go thru hospice at home for the last two months, Our daughter Diana Reed who is a registered nurse took a leave of absence from her hospital to help me with her mother at home.

Evelyn was a very active individual. She was the first female Inspector for IOSHA and advanced to the position where she promulgated Federal Law into state law for Indiana IOSHA. After She and I developed and built a Indoor Shooting and training facility The Gun Room Inc. in Beech Grove she then, on her own, started a cleaning company with her cousin Pam and developed it into a fairly large operation, primarily business accounts.
When 9/11 hit our primary account, various airlines, cancelled all of their sub contractors and we ended up having to file bankruptcy. Rather than again trying to start over, we moved to Las Vegas, where Evelyn went to Gaming School and became a surveillance Operator at several casino's handling as many as 200-500 cameras, watching for cheater's and thieves, notifying security and then following the suspect and directing security as to their movements until capture.
Her last 4 years she suffered 4 dif. forms of cancer until this last one Lymph node cancer