Charlie Creasser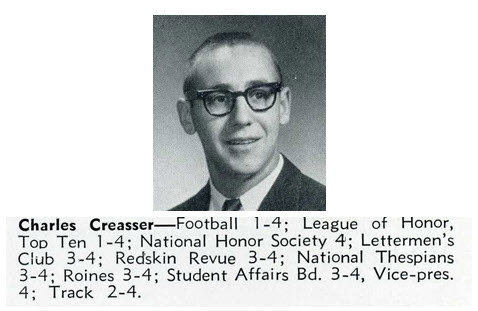 Charles W. Creasser, MD - husband of Carol June Schilling Creasser(Class of '64)

March 6, 1944 - Dec. 22, 2018

GRANGER, IN - Dr. Charles William Creasser (Charlie) was born on March 6, 1944 to the late Georgia A. and Malcolm O. Creasser. He passed away unexpectedly, at the age of 74, in his son's home on Saturday, December 22, 2018 in Granger, IN.

Charlie was the loving husband of Carol June Schilling Creasser for over 50 years. They were lifelong partners in everything they did including raising their five children.

Charlie graduated from Medical School in 1969 from Indiana University. He completed his internship at Memorial Hospital, South Bend, IN and his residency at Indiana University, Bloomington, IN.

He served in the United Stares Navy from 1973-1975 in Charleston, SC.

Charlie was an anesthesiologist for 30 years in the South Bend Community until he retired in 2006. He practiced at Memorial Hospital, South Bend Clinic, and Allied Physicians.

Charles was preceded in death by his daughter, Elizabeth A. Creasser. He is survived by his sister, Carolyn Decker; a son, Russ (Denise) Creasser; his daughters, Kelly (Tom) Mailloux, Wendy (Chris) Schindler, and Holly (Craig) Bentley: grandchildren, Joshua Mailloux, Sarah Mailloux, Ashleigh Davidson, Rachael Behr, and Mitchell Schindler, two nieces, and one nephew.

Charles was a man of values: loyalty, dependability, and respectfulness; he was a great friend and patient teacher; and those were just a start as to who he was. His biting humor, stories, and sharing jokes would keep us all wanting more.

He was an amazing woodworker, fly fisherman, sailor, and Dad. He thoroughly enjoyed music, from classical to rock, reading, and traveling the world with Carol June at his side. His Beaver Island, MI home and workshop were always waiting for his return as a perfectionist in all he did. He never cleaned up a mess very well.

Our loss is great not just to our family, but to his Beaver Island and South Bend communities.

Donations may be made to: Charles Creasser Memorial Fund, c/o Beaver Island Community Center, P.O. Box 494, Beaver Island, MI 49782.

There will be no visitation or services. McGann Hay Funeral Homes is entrusted with arrangements. To send condolences, please visit www.McGannHay.com.
Published in South Bend Tribune from Dec. 29 to Dec. 30, 2018