Faculty Obituaries
Faculty Obituaries
Meredith "Jean" Bacus
86, of Greenwood, passed away in her sleep on June 26, 2014. Jean was born on June 27, 1927 in San Francisco to Earl L. Wilson and Eunice May Johnson. She was preceded in death by her husband, Dean D. Bacus. Jean was a graduate of Indiana and Purdue Universities. She taught home economics at Emmerich Manual High School in Indianapolis for twenty five years and two years in Alliance, Ohio. Jean was a member of the Paragon Christian Church. She is survived by her daughter, Sara Ann Balzer and son-in-law, Francis X. Balzer, and their three children, Jenny, Emma and David. After retiring Jean wrote and published family histories of her Johnson and Wilson families. Honoring her wishes, there will be no visitation or funeral service. Her interment will be next to her husband in Friendship Park Cemetery, in Paragon, Indiana.
Published in the The Indianapolis Star on June 29, 2014
Robert W. Crawford
Robert W. Crawford 83, passed May 31. Born August 27, 1923 in Cleveland, Ohio to Leta Breiner and William F. Crawford. He was a military policeman, Second World War, First Infantry Division (Big Red One) in North Africa, Sicily, England and mainland Europe, landing under fire on Omaha Beach, and was a recipient of the Bronze Star. Mr. Crawford taught art at Emmerich Manual High School for 39 years. He was a board member and past president of Indiana Artists, and board member of the Southside Art League. He was a recipient of numerous honors and awards for his art work. His award-winning entry in the 2007 Indiana Artists competition is on exhibit at the IMA. He was a Fourth Degree K of C member, and a member of Our Lady of the Greenwood Catholic Church, VFW and Beta Theta Pi. He was preceded in death by his wife of 25 years, Jean Alice Fralinger Crawford; brothers, Donald and Howard; daughter, Stacy Starkus; grandchildren, Ericka and Michael Forslund. He is survived by his sister, Constance Wiley; daughter, Cheryl Crawford Forslund (James); son, Donald Crawford; grandchildren, Donald Crawford, Richard (Michelle) and Daniel Forslund, Mary and Heather Starkus; great grandchildren, Elle and Emma Forslund; stepsons, Scott, Brent, Kyle Andrews.He was first noticed for his 6"5" stature, but remembered as a true gentleman with a supply of stories and a twinkle in his eye. Mass of Christian Burial will be celebrated Monday, June 4, 1 p.m., at Our Lady of the Greenwood Catholic Church. Visitation: Sunday June 3 from 2 p.m. until 8 p.m. at Daniel F. O'Riley Funeral Home where prayers will be said at 12:30 p.m. on Monday prior to Mass.
Published in the The Indianapolis Star on June 3, 2007

Leror Zail "Dee" Compton

Leroy Zail "Dee" Compton 83, died Thursday, July 12, 2007. Leroy was born on February 15, 1924 to Ralph and Gladys (Maze) Compton in Urichsville, Ohio. "Dee" graduated from Franklin Township High School in 1942 and went to Butler University where he earned his Bachclor's Degree in Education in 1948. He earned his Master's degree in Physical Education from Indiana University in 1952. While at Butler, he participated in football, basketball and baseball and was a varsity letterman in basketball. He was also a member of the "B" Men's Club and Phi Delta Theta. He married Virginia Ann Coxen of Indianapolis in 1948. They moved to Ontario when he signed with the Pittsburg Pirates to play minor league baseball with the Kingston Ponies. In 1947, he and Virginia returned to Indiana and he began his career as a teacher and coach. For 17 years he was a teacher and coach in the following Indiana High Schools: 1947-1949 Moral Township High School, 1949-1956 Bluffton High School, 1956-1961 Shelbyville High School and 1961-1964 Indianapolis Manual High School. During that time, he taught Physical Education, Health and Safety, General Science, Biology, English and United States History and coached basketball, baseball and football. In 1964, the family relocated to Oak Park, Illinois where he continued his career in education and athletics as the Chairman of Boys' Physical Education Department and Director of Athletics at Oak Park and River Forest High Schools. While at Oak Park and River Forest High School, he directed the world's largest indoor High School track meet. In 1970 he took a position at Proviso West and Proviso East High School in Hillside and Maywood, Illinois where he worked in the capacity of athletic director. He returned to Indiana in 1976 when he accepted the position of Supervisor of Athletics and Physical Education with Indianapolis Public Schools until he retired in 1985. After his retirement, he remained active in high school athletics and in community service. He was inducted into the Indiana Basketball Hall of Fame in 1994 and served as president from 1998-1999. He served as president of the Franklin Township Historical Society, treasurer of the Acton Cemetery Association, historian for the Indiana Interscholastic Athletic Administrators Association and served on the board of directors for the Ruster Foundation, and was a long time member of the Acton United Methodist Church. He received many awards for his contribution to high school athletics in the capacity of Athletic Director from both the states of Indiana and Illinois; in addition to his induction to the Indiana Basketball Hall of Fame. He was inducted into the National Council of Secondary Schools Athletic Directors Presidential Hall of Fame in 1999. He was preceded in death by his parents, Ralph and Gladys Compton. He is survived by - his wife, Virginia; sons, James (Laurie), Ted, and Charles (Sheila); daughters Anita (Jeff) Hubley and Nancy Compton; grandchil dren, Wesley Compton, Laura Compton, Carin (Tony) Bro gan, Andrew and. Anna Hubley; and one great grand child, Alex Brogan. Visitation will be Sunday, July 15, 2007 from 3-8 p.m. at Little and Sons Funeral Home, Stop 11 Chapel with funeral service at Acton United Methodist Church, Monday July 16, at Noon with calling at 11 a.m.
Published in the The Indianapolis Star on July 14, 2007


Robert T Gallamore

Robert T. Gallamore 79, passed away on September 21, 2006. He was born in Anderson, Indiana on February 24, 1927 to Sylva and Mary Jane (Ball) Gallamore. Bob was an administrator for Manual High School's Evening School Division prior to his retirement in 1988. He served in the U.S. Marine Corps during WWII. Bob was an avid outdoorsman and was extremely passionate about fishing. Bob was especially fond of his role as "Grampa Bob" to his grandchildren. Since retirement he and his wife Joan had enjoyed hosting family vacations during their winter stays in Florida. Bob is survived by his wife of 57 years, Joan and children, Jay Gallamore of St Leonard, MD, Jennifer (Gallamore) Lawrence of Indianapolis, Indiana and Brian Gallamore of Linden, Michigan; brothers, Harold Gallamore and Donald Gallamore, both of Anderson, Indiana; sister, Jane (Gallamore) Lipan and four grandchildren. Viewing will take place at G. H. Herrmann Madison Ave. Funeral Home, 5141 Madison Avenue, Indianapolis, Indiana 46227, from 3 p.m. to 7 p.m. on Sunday, September 24, 2006. The celebration of Bob's life will also be held at the funeral home at 11:30 a.m. Monday, September 25, 2006. Memorial contributions may be made in Bob's name to the
American Heart Association
.
Published in the The Indianapolis Star on Sept. 23, 2006

Dr. R. Ray Hawkins



Indianapolis - Dr. R. Ray Hawkins, 88, of Indianapolis, recently of Carmel, IN died on June 18, 2019. He was born in Terre Haute, Indiana on April 15, 1931 to Harold and Violet Hawkins. Ray is survived by his wife of 58 years, Suzanne (Barclay), his two sons: James Hawkins (Christine) and John Hawkins (Christy) and eight grandchildren who will miss grandpa dearly: Will, Shannon, Rachel, Katherine (Jim) and Jack, Elizabeth, Joseph, and Michael (John).

Ray served his country as an Airman in the United States Air Force. Stationed at Wright Patterson Air Force Base in Dayton, Ohio, Ray rose to the rank of Staff Sergeant working in the Statistical Services Division and was honorably discharged in 1959 to further pursue his post-secondary education.

Ray held a doctoral degree in Psychology from Indiana University as well as degrees and certificates from Indiana State University, Butler University, and Purdue University. Prior to earning his Ph.D., Ray was a dedicated teacher and department head at Manual High School in Indianapolis where he met his beloved wife. After earning his Master's degree in education, he became an adjunct professor in the School of Business at Indiana University Purdue University Indianapolis and directed the Counseling and Placement Center. In 1979, Ray left the world of education to join Eli Lilly and Company as a staff psychologist. During his 20-year career with Eli Lilly, he served as Senior Personnel Advisor to the executive staff, practiced psychology in the Lilly Employee Health Service Centers and ultimately served as the Director of Psychological Services. He retired in 1999.

Dr. Hawkins also lent his skills and outgoing personality to the Indiana Pacers as a staff doctor for 17 years, providing sports psychology and family counseling to the players and coaches and personality assessments for potential draft picks. He spent time working with the Indianapolis Colts in a similar capacity.

After he retired, Dr. Hawkins was very active in his community. He served on the Indiana State Board of Examiners in Psychology and served on the boards of the Indiana Historical Society, Big Brothers Big Sisters of Central Indiana, Jameson Camp, and Goodwill Industries. Ray was an active member in the Indianapolis Literary Club, the University Club, the Columbia Club, Downtown Kiwanis, the Economic Club of Indianapolis, the Indianapolis Athletic Club, and the Indianapolis Chamber of Commerce.

Ray was a Pacers and Colts season ticket holder and an ardent sports fan. He was a devoted member of Second Presbyterian Church, and he shared his knowledge and talents generously. Ray never met a stranger and was miraculously prepared to share a lecture about any topic or helpful advice at a moment's notice. Throughout his working years and retirement, Ray enjoyed gardening, reading, spending time on the beach in Siesta Key, FL and being surrounded by his family.

Visitation will be held on Monday, June 24th beginning at 11:00 am at Flanner Buchanan - Carmel, 325 East Carmel Drive. A celebration of Ray's life will follow the visitation at 1:00 pm. There will be a graveside service immediately following. In lieu of flowers, the family requests that donations be made to Big Brothers Big Sisters of Central Indiana or the Indiana Historical Society.

Published in the The Indianapolis Star on June 21, 2019
From Vic Jacobs...
Dr. Hawkins went out of his way to help me gain confidence when I was going back and forth between my parents. I went to his office as an assistant rather than going to study hall. I was him on turnabout day. I am sorry to hear of his passing. He was truly a great guy!
----------------------------
William D Kleya


A "must read" obituary for Mr. Kleyla is here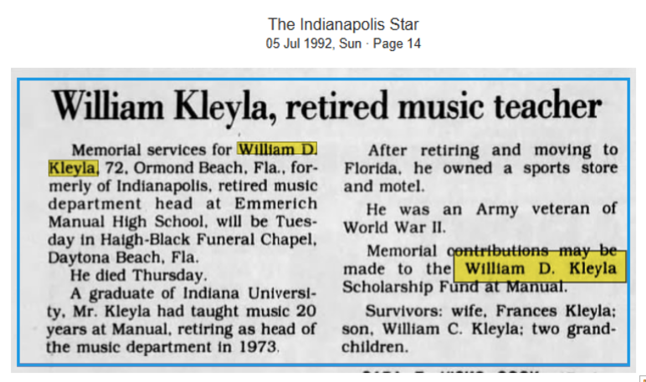 Ronald B Parke


Misbehave in Mr. Parke's class and he would give you the "Mark of Parke"! It was from chalk he put on a wooden board and then he smacked you leg with it.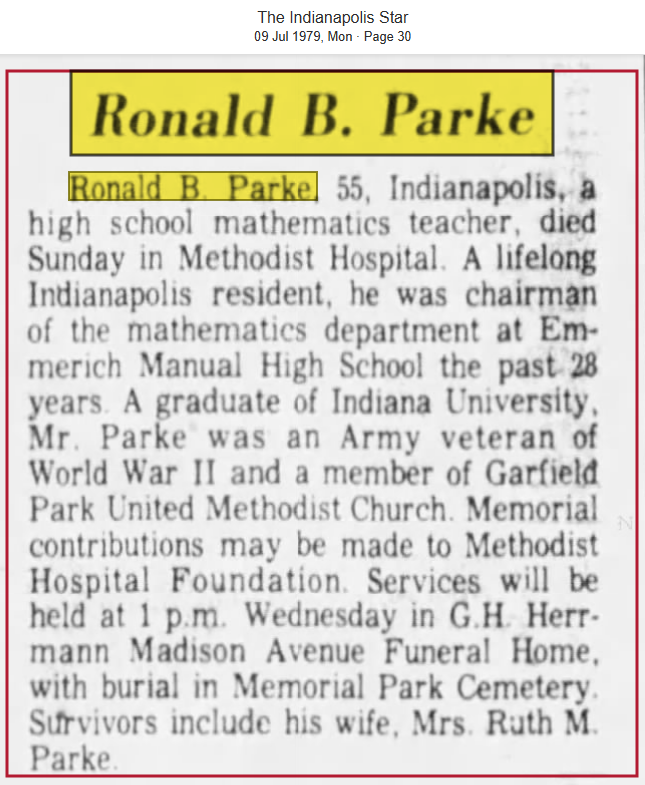 Ray Schultz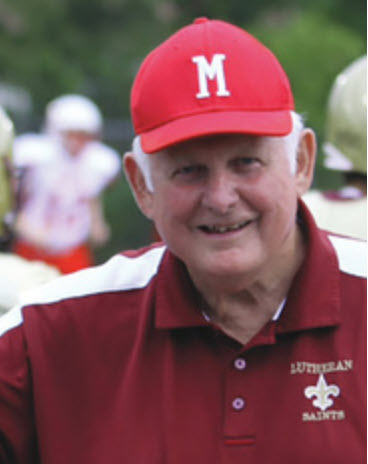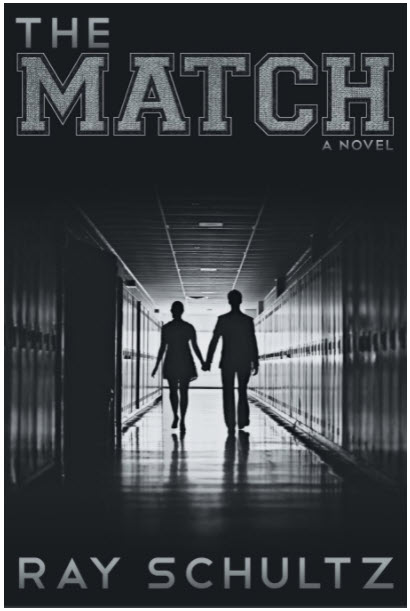 With great sadness we bid an earthly farewell today to our beloved husband, father, grandfather and great-grandfather—Raymond Carl Schultz, a man of God. In our deep grief, we also rejoice in the heavenly reward we know awaits him in Christ Jesus, and our hearts are filled with gratitude for the constant example of Christian servanthood he modeled for us and so many others his entire life. Coach finished strong.
"His master replied, 'Well done, good and faithful servant! You have been faithful with a few things; I will put you in charge of many things. Come and share your master's happiness!" Matt. 25:21
On behalf of the entire Schultz/Alter/Broughton family, thank you from the bottom of our hearts for lifting Ray/Dad/Papa/Coach and all of us up in prayer this week.

Steve Schultz - from Facebook

From TheSouthSiderVoice about his novel...

In his newly released novel, "The Match," former Manual High School athletic director, teacher and Hall of Fame football coach Ray Schultz has written an exciting tale that is sure to capture the interest of all those who enjoy stories involving competition, suspense and surprise endings.

Unlike his first book, "From the Beginning to the End Zone," which included true stories of his life in football, "The Match" is a work of pure fiction. Ranging from the jungles of West Africa to the challenges of winning championships and the discoveries of modern medicine, this story will keep one guessing about what really is the match.

The story develops when an All-American volleyball coach and a two-time NCAA basketball champion meet to coach at the same high school. A struggle develops as to which program will become the most successful. At first their competitive spirit drives them apart, but eventually they are drawn together as they battle a threat to their lives.

Asked why he chose to write a novel, Schultz said, "It was part of my bucket list. I enjoy writing, and after interviewing a gentleman from West Africa one day, the hook of this story just popped into my head. Even though it took me a long time to finish it, I knew I had to do it."

Schultz said the book is receiving good reviews. "It has been called a 'real page-turner,' 'excellently written' and 'a potential movie.' I have been flattered by the messages, cards and letters that I have received."
​
Copies can be purchased at Direct Connect Printing & Digital Services, 930 E. Hanna Ave., Amazon.com and Barnes & Noble.com.

The plaque which hangs on the concession stand...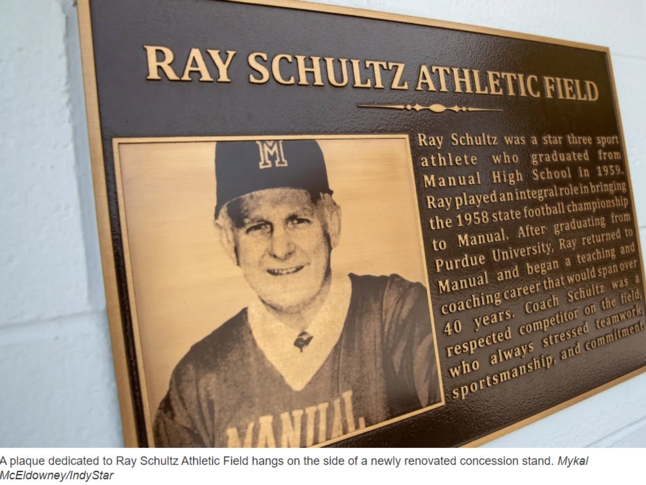 You can read the Indy Star article about Ray here >> Indy Star Article

From Vic Jacobs...
Ray's first year as a coach was my last year at Manual. He was a great human being. It was my honor to know him and play for him. I want to offer my condolences to his Wife Sandy and Brother in Law, Phil Steele.
From Ron Drahos...
I remember playing basketball against him at Steele's house (his wife's home back then). For whatever reason you played to 24 (I don't remember why). I scored 14 points against him one day in a one-on-one game using a hook shot. Anything else I would have tried he would have stuffed. I remember watching him play for manual both in football and basketball. The 1958 team was fantastic.
Edgar Stahl