In Memory
David Ellis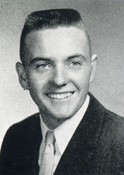 David H. Ellis, 69, died Sunday, May 24, 2015, at his home in Morgantown.
Survivors include his wife, Marcia I. (Durham) Ellis; children, Candy L. (Steve) Hamm of Blue River, Wisconsin, Greg D. Ellis of Morgantown, Jerry D. Ellis of Spencer and Shaun M. Ellis of California; 10 grandchildren; and eight great-grandchildren.
Stan White and Rodger Bunch conducted the funeral service at Meredith-Clark Funeral Home Cremation & Personalization Center, 179 E. Mulberry St., Morgantown. Burial was at East Hill Cemetery in Morgantown.